Ideation:
The project began by thinking about creating something that would encourage cooperation among kids. Is a see-saw as good as it gets? I spent some time at playgrounds watching kids and their toys. Vehicles are always popular and I began to wonder about the possibilities for a cooperative vehicle.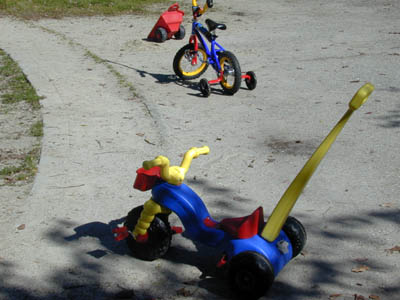 Why aren't there any tandem bikes for kids?
I started sketching out ideas. Early on, I decided any successful cooperative vehicle would allow both drivers to affect, but not dictate, where the vehicle went. Furthermore, ideally the vehicle would be something that you could use alone, but that was much more fun to use with someone else.
Sketching.
The Stanford design program is big on brainstorming - short, intense sessions where anything goes idea-wise. The general notion is that one way to get a good idea is to start with lots of ideas. Here's a sample of the some of the ideas generated during a session on "All the ways to connect two kids' carts together." I particularly like the "third kid" idea.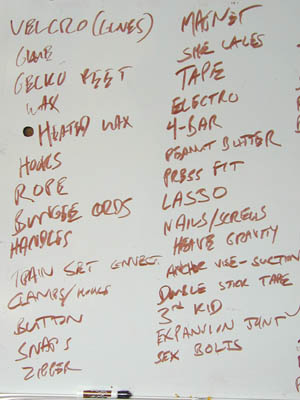 Brainstorming: "defer judgement".